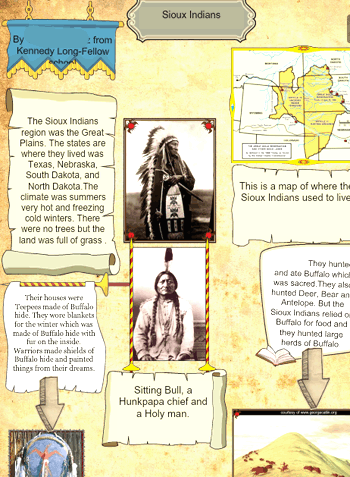 When looking for a tool to combine informational writing, images, links and video, the Ms. Burke's Fifth Grade class found just what they were looking for with Glogs. Glogs are interactive online "posters" created through the website Glogster.edu. A free account allows up to 10 students and the paid account ($29.95 per year) allows up to 50 students, which isn't bad considering you can delete and re-add students as needed.
The unit was kicked off by exploring several Native American tribes as a group. Students were then given independent time to read and choose a tribe or tribal region on which to focus their research and writing.
Glogster is a relatively intuitive program, it's interface offering buttons that allow users to insert a text, image, video, audio or web link. Because it doesn't include a spell check feature, it's critical for students to first type their work into a word processing tool and copy/paste their text over into their Glog. This also allows them to separate their text into paragraphs, which will become easy to navigate separate sections.