Over 130 junior kindergarten – 6th grade students from the Summer Compass Program came through the Lesley Makerspace to experience hands on robotics, electronics, and engineering projects.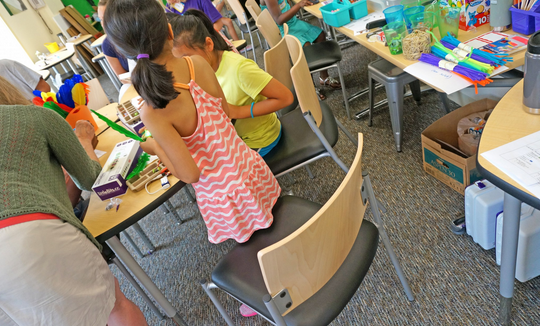 Fourth Grade
4th graders programmed characters to dance and make music in Scratch and created musical keyboard out of…lemons and limes! Using a MaKeyMaKey micro controller, students worked in pairs to attach fruit and other conductive material through the MaKeyMaKey board and into the computer. Back in Scratch, they developed programs that make sounds and/or triggered other actions to happen on the screen. They used littleBits (small electronic components that magnetically snap together) to create their own "tickle machines". Then they were off creating their own beeping, spinning, lit up inventions.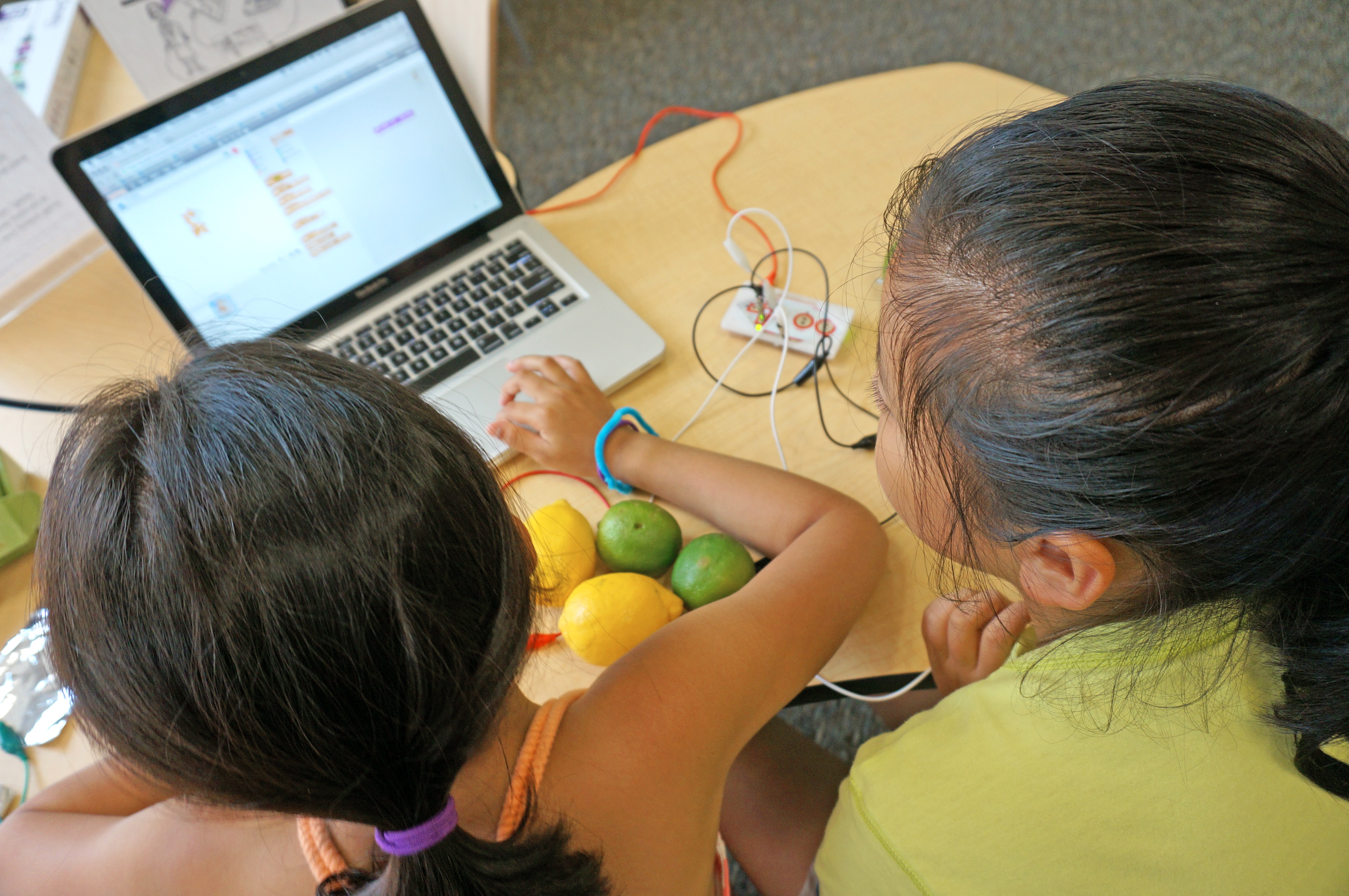 In the Makerspace annex, students worked in pairs to assist a helpless gummy worm (Saving Sam) in safely getting his lifejacket on using only two paperclips. It's trickier than it sounds! The next engineering challenge tasked them with creating a table only using 8 pieces of newspaper, masking tape, and one small piece of cardboard. The catch: their table had to hold at least one heavy book. After several rounds of brainstorming, problem solving, and redesigns, the groups came up with two truly unique prototypes. One worked. One didn't. But a lot of great creative thinking was involved in both! Finally, each student had a chance to create their own robot by attaching a tiny vibrating motor and battery together on: a toothbrush head. The bristlebots were then brought to life with gems, pipe cleaners, googly eyes and more.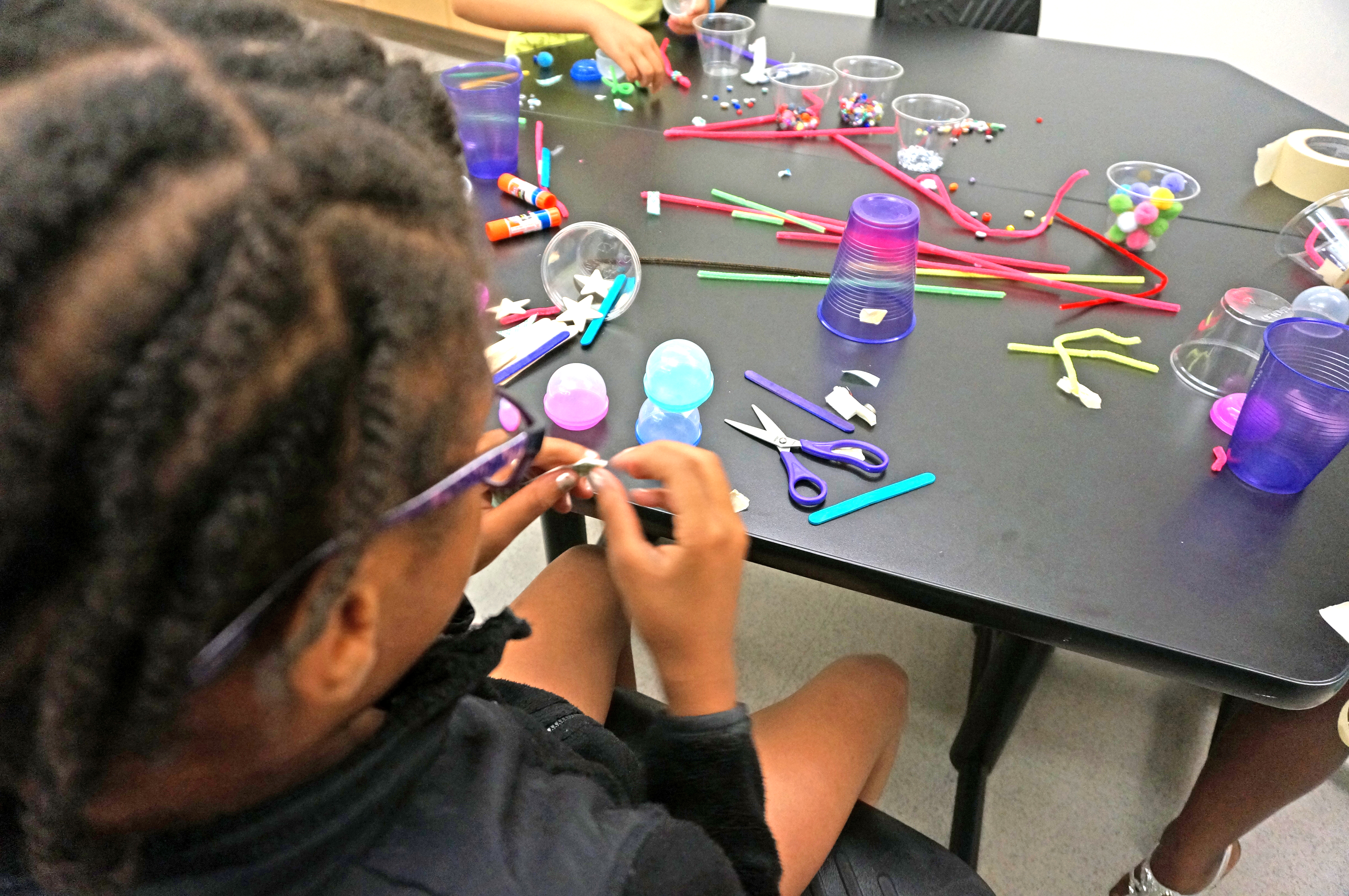 Third Grade
Third graders in the Makerspace programmed characters in the free iPad app, ScratchJr, to dance, talk and play music. They also created littleBits tickle machines and had the chance to go "off the grid" and create their own contraptions by taping on recyclables. Other students had the chance to program a KIBO robot to move, shake, turn, light up and more, by scanning a series of blocks. Both ScratchJr and the KIBO robot activities let students explore the basics of computer programming, or coding. Meanwhile, the conference room was abuzz with bristlebots of all shapes, colors and sizes. Third graders also had the chance to try out the Saving Sam challenge, with good news: every did indeed save Sam!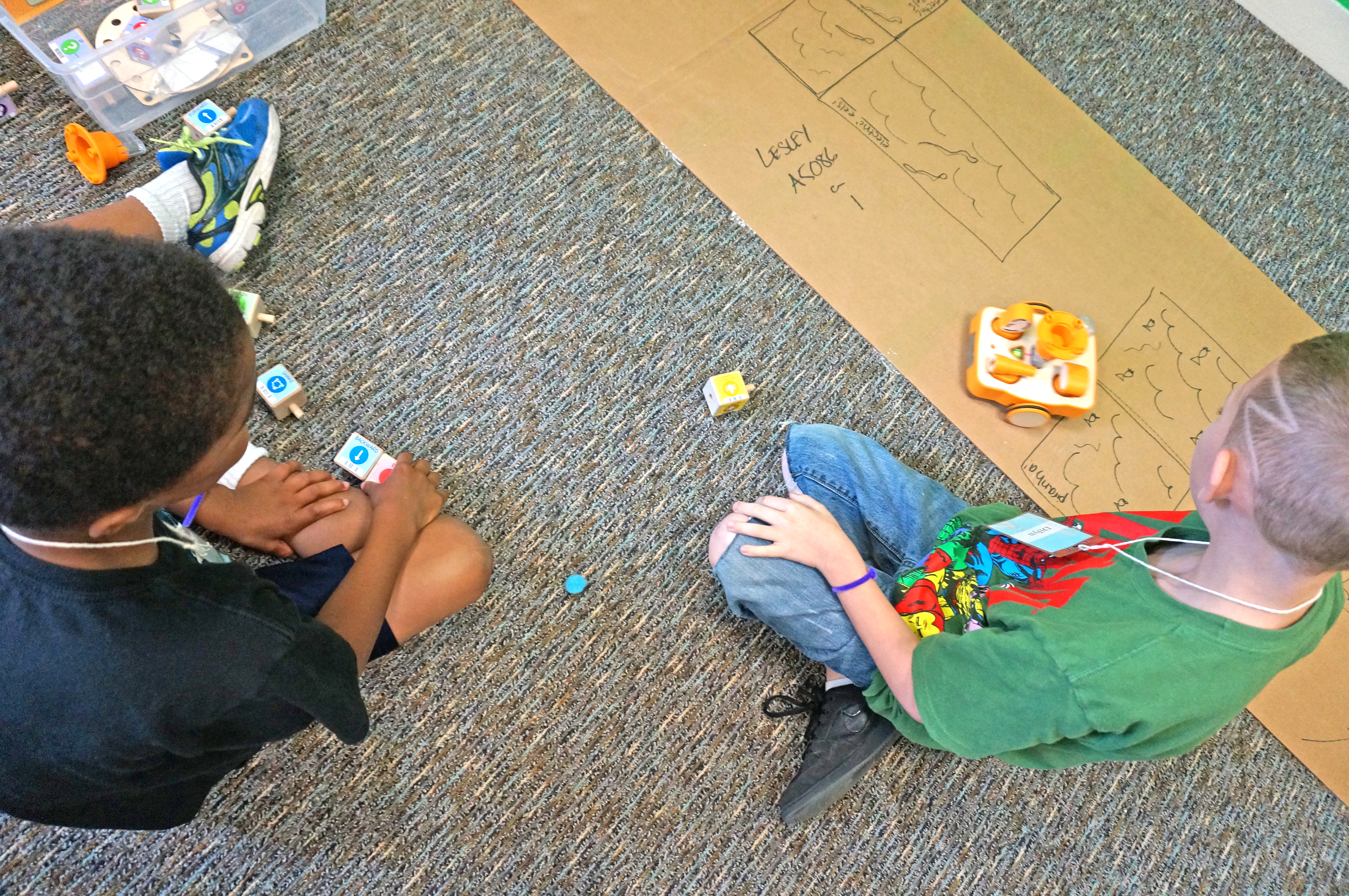 Second Grade
Second graders in the Makerspace jumped into a mix of ScratchJr and Kibo robots, and BeeBot Robots. The BeeBots are small bee-like robots that are programmed around a gridded mat by pushing "forward", "back", "right", or "left". Each grid box contained a different rhyming or opposites card. Students choose a card from a pile and programmed the BeeBot to move to the corresponding card on the mat. Some students also stepped up to the challenge of the "Treasure Hunt" board, where they had to program the BeeBot to move through a maze to find the treasure at the end. More bristlebots came to life in the annex, as students discovered what happens when you connect a battery to a small vibration motor.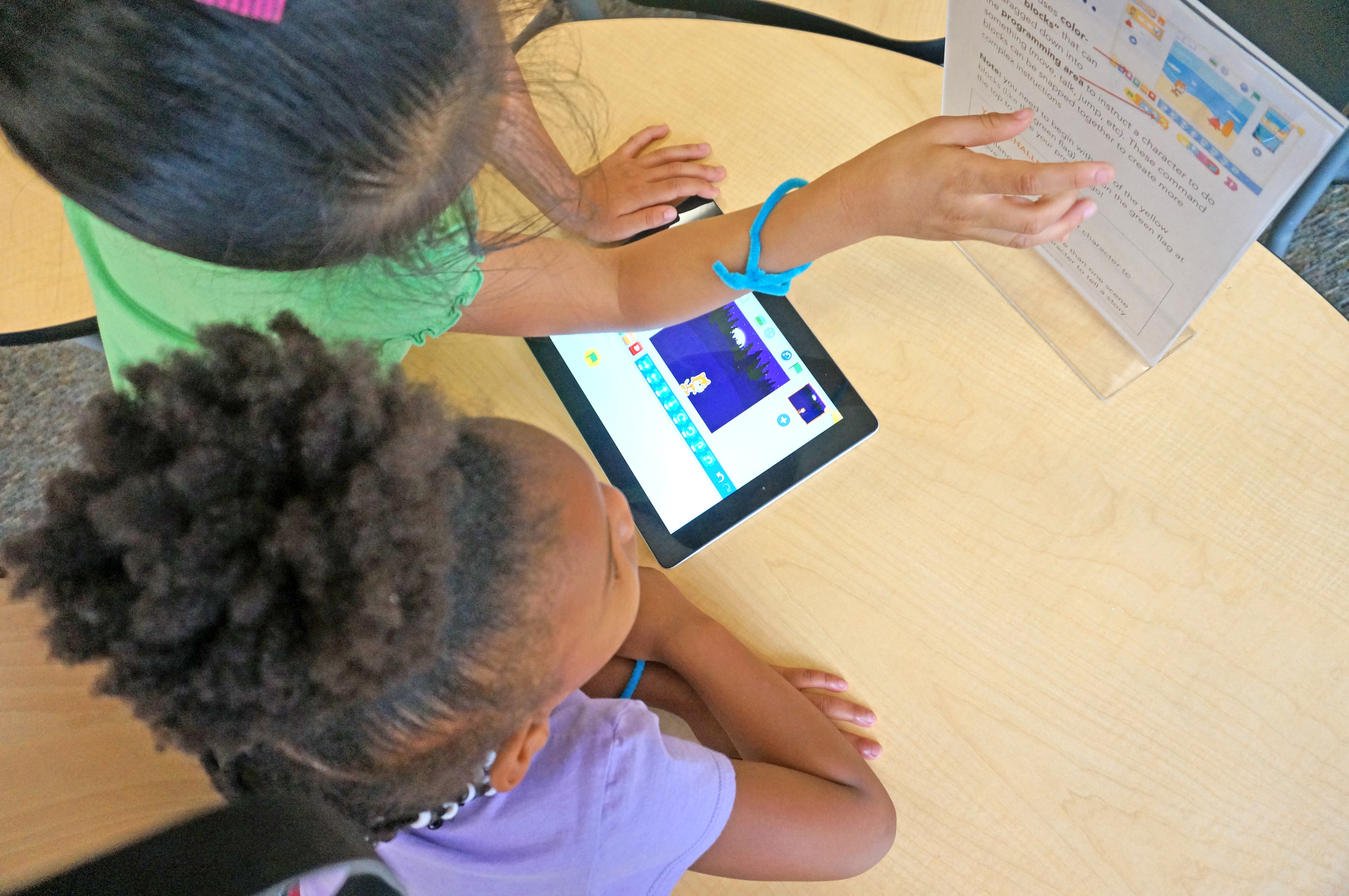 First Grade
First graders also jumped into BeeBots and Scratch and went to head to head with a marshmallow challenge. In this challenge, they were tasked with building a structure that was 6 inches tall. Though many of the children remarked that the challenge was "really hard", they each created unique structural designs that were truly spring from their imaginations. Some also noticed that the structures that succeeded in being built upwards contained various shapes: namely, squares and triangles.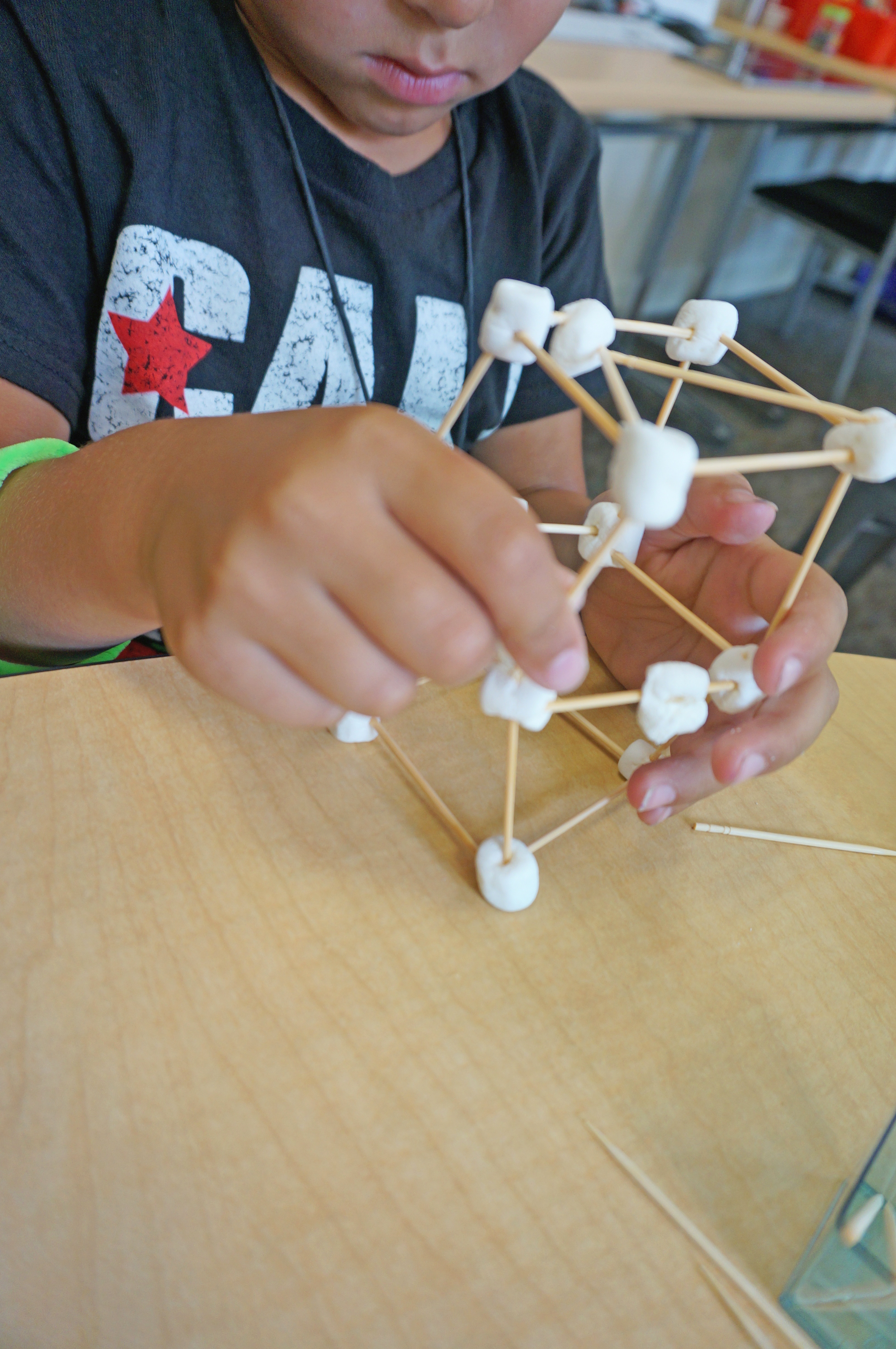 In the annex, students were introduced to the story behind the book What Floats in a Moat? , which depicts a scrappy goat determined  to make several deliveries of buttermilk across the moat to the queen. They were challenged to create a boat that would carry various load weights (marbles) across the moat (plastic bin filled with water) and power their boat with blowing through a straw. The array of designs was dazzling! Most exciting was watching the students test out their designs and redesign accordingly, again and again until their boat successfully crossed the moat.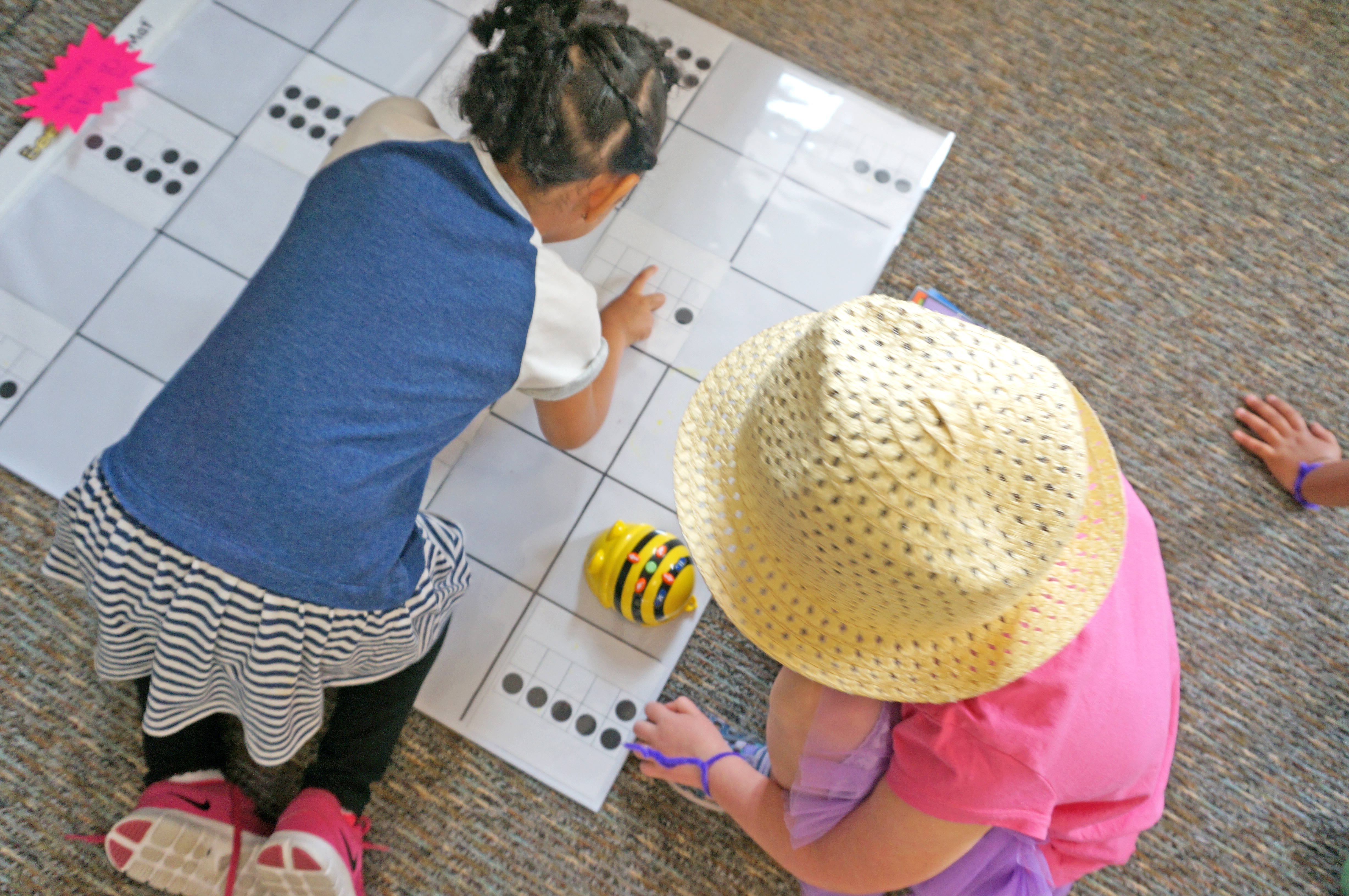 Junior Kindergarten/Kindergarten
Kindergarten, the youngest makers to visit, programmed BeeBot robots, coded with ScratchJr, and invented their own unplugged robots using recyclables and art materials. The BeeBots were programmed to move around two different boards: one practiced counting to 10 using base 10's. The other practiced sight and rhyming words. In ScratchJr, students helped each other create new characters, record their voices to bring the characters to life, and discovered that they could create multiple "scenes" to tell a story. This group was also challenged with "What Floats in a Moat?" and again, the range of solutions was truly inspired.
Check back soon for an update on the 5/6th grade visit, scheduled to happen on Tuesday, July 29th!