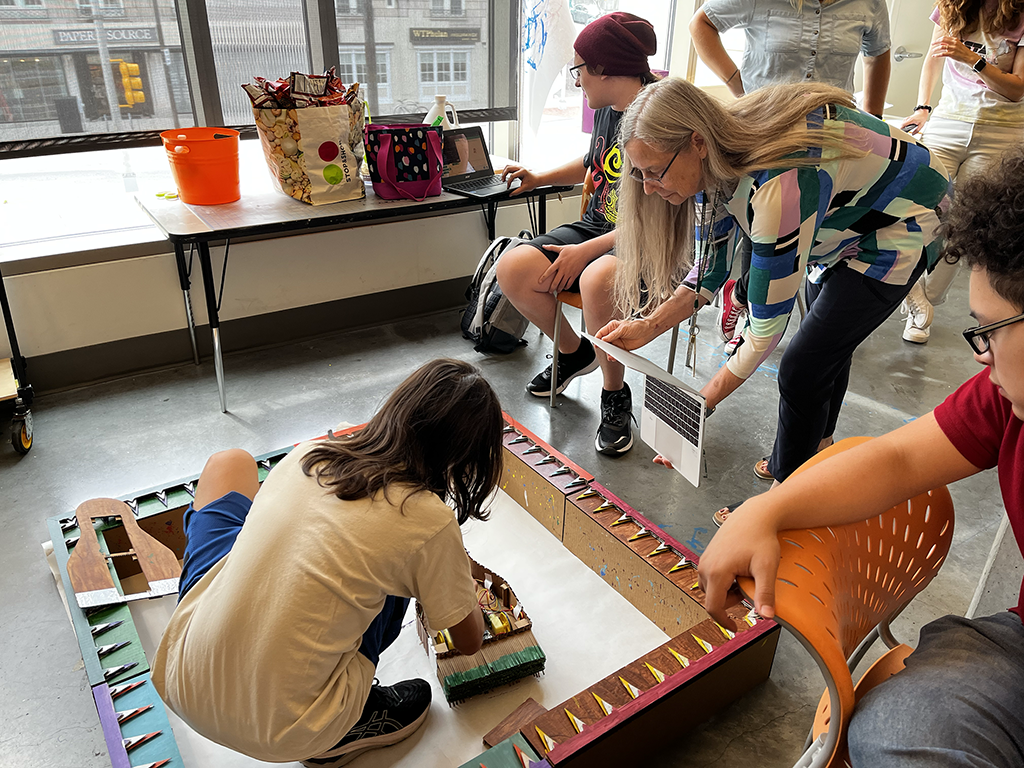 This summer we invited 12 Somerville High School (SHS) students from diverse backgrounds to explore the combination of three-dimensional art, machine learning artificial intelligence (AI), and robotics. The in-person course built upon an existing collaboration with SHS teachers Karen Leary (math) and Laura Peters (robotics) and Lesley STEAM. Every day for two weeks SHS students met the SHS/LSTEAM at Lesley University's College of Art and Design or LA+D.  Like the 2021 course, students earned 4 Lesley college credits that were matched by 2.5 math or 2.5 art credits. The skills they learned can be applied to other classes they can take during the school year such as math, art, robotics, and computer science.
SHS/LSTEAM facilitated activities such as 3D art & design, face-sensing AI using the Scratch programming language, and robotics. Class activities culminated in a capstone "moving 3D sculpture" project. The main objectives of the class were for students to:
Show an understanding of 3D art & design using craft material & art supplies.
Demonstrate knowledge of robotics by building robots that alter the environment through art.
Demonstrate their knowledge of machine learning AI, especially through face-sensing in Scratch.
Show an understanding of the iterative design process by rebuilding/repurposing their robot for new ends.
We began the course by learning about 3D art & design elements and principles. Students learned about 3D artists such as Lee Bontecou, Heather Hart, Olalekan Jeyifous, and Sanford Biggers. Next, students presented their research, especially which elements/principles they identified in their chosen artist's works. Later, they learned about Joy Buolamwini, a coder who uses art and research to illuminate the social implications of artificial intelligence.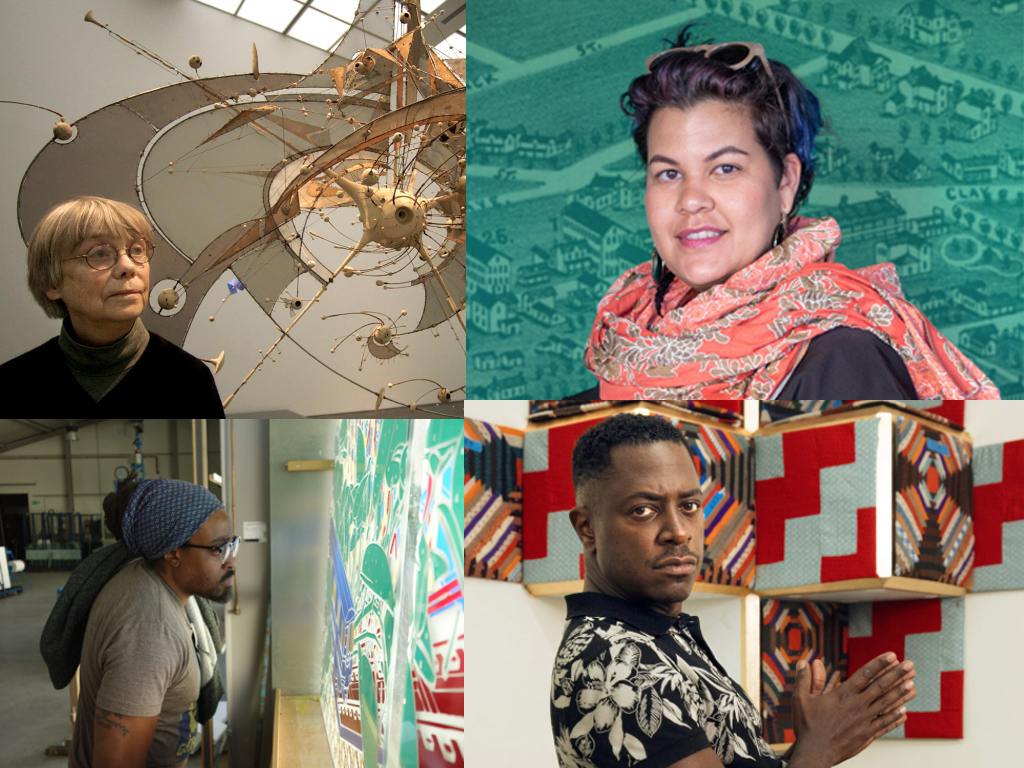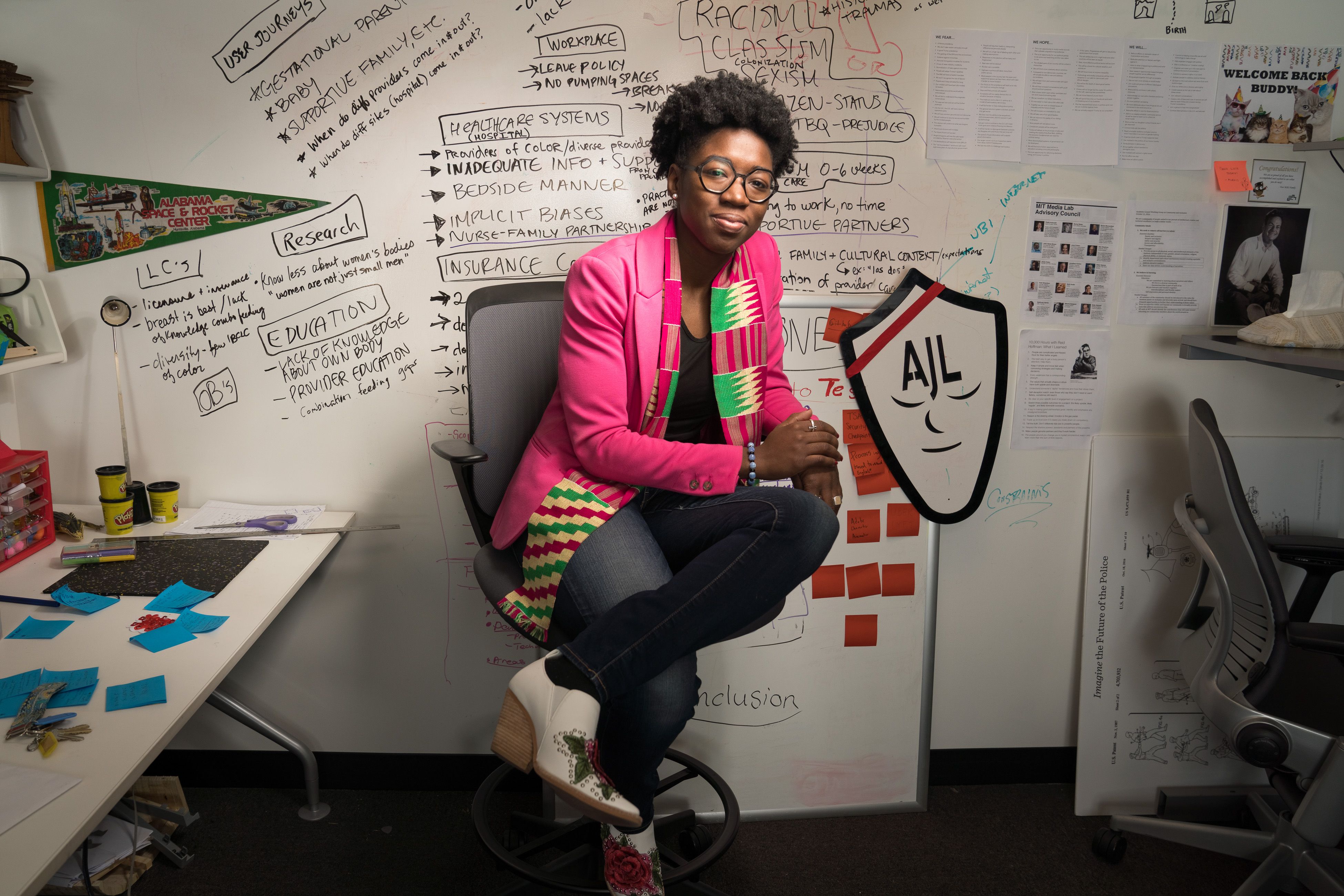 For the first week, students explored 3D art & design (see above) in the morning. During the afternoons, with support from SHS/LSTEAM and Lesley A+D alum Bo Liang, students explored Scratch block coding, robotics, and digital fabrication such as 3D printing and laser cutting. They created kinetic sculptures that addressed a social justice issue or movement that is critical to them or their community. Then, they built robots using an entry-level kit that requires no soldering. They controlled their robots using face sensing AI. Face Sensing in Scratch let's users create projects that respond to their eyes, nose, and other parts of their face. For the course, students used face-sensing to control their 3D art robots.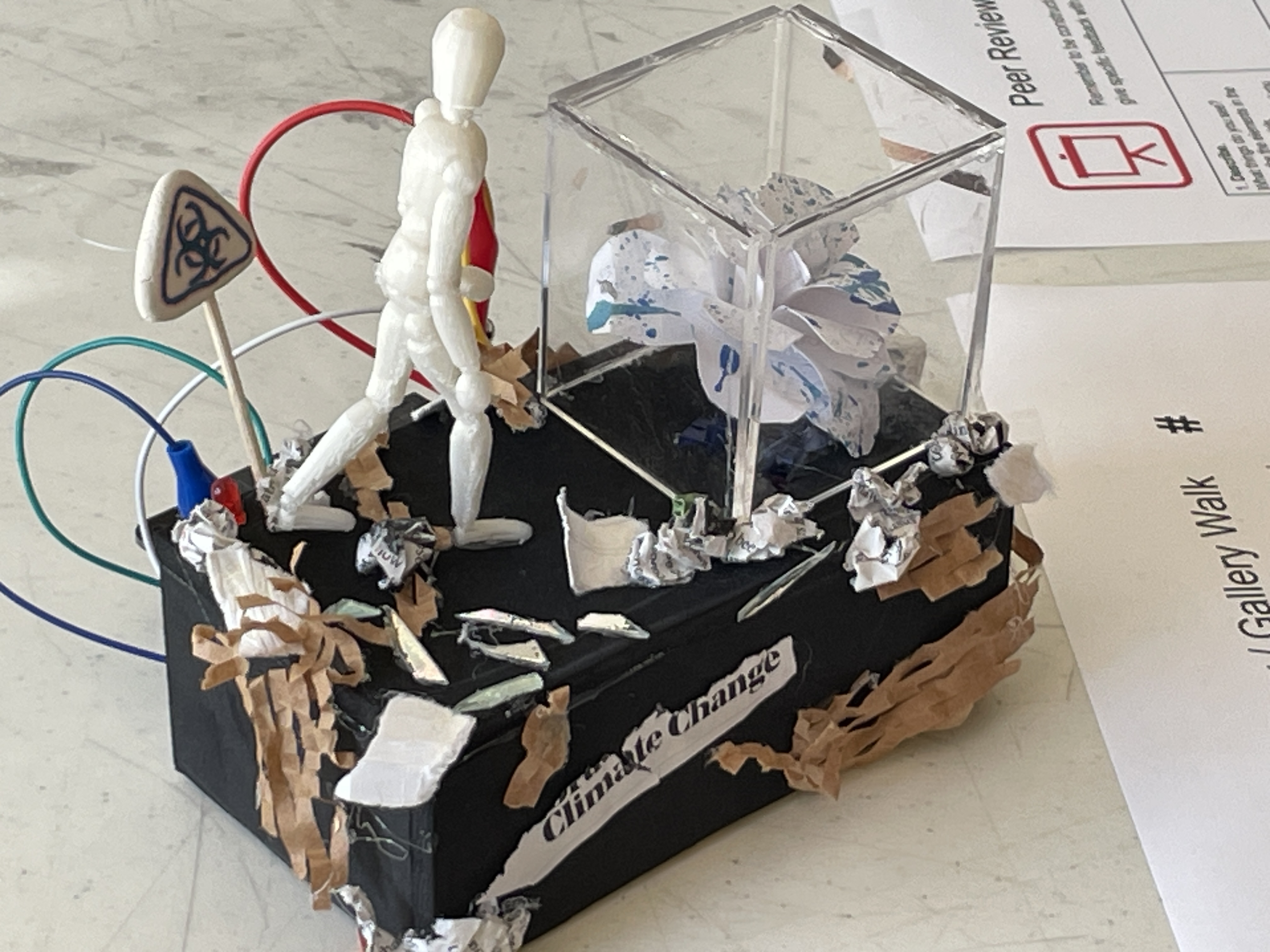 Students were given a design brief, which outlines capstone design deliverables and constraints. In design cyphers (also called circles or breakouts) the students brainstormed themes, then used sketches, web search images, notes, and found objects to visualize and present their ideas. The concept of the cypher comes from hip-hop culture:
To cypher is to rap, break, beatbox tightly together in a circle where each person just might get a moment in the spotlight. To cypher is to borrow and to lend, to playfully freewheel through whilst taking an exacting care for each word and carefully considering all the sounds, meanings, and interpretations. It is to fight back, to borrow, to steal, to represent, and to collaborate, whilst suddenly—surprisingly—at times aggressively claiming your own voice, your own right to speak. —Paul Watkins and Rebecca Caines
Working in cyphers, or smaller teams gave students the space to explore self-concept, which refers to the ways young people perceive their behaviors, abilities, and unique characteristics. Students learned how to use Adobe Illustrator for 2D design projects and Fusion 360 for 3D modeling. In the LA+D fab lab they learned how to 3D print and laser cut objects.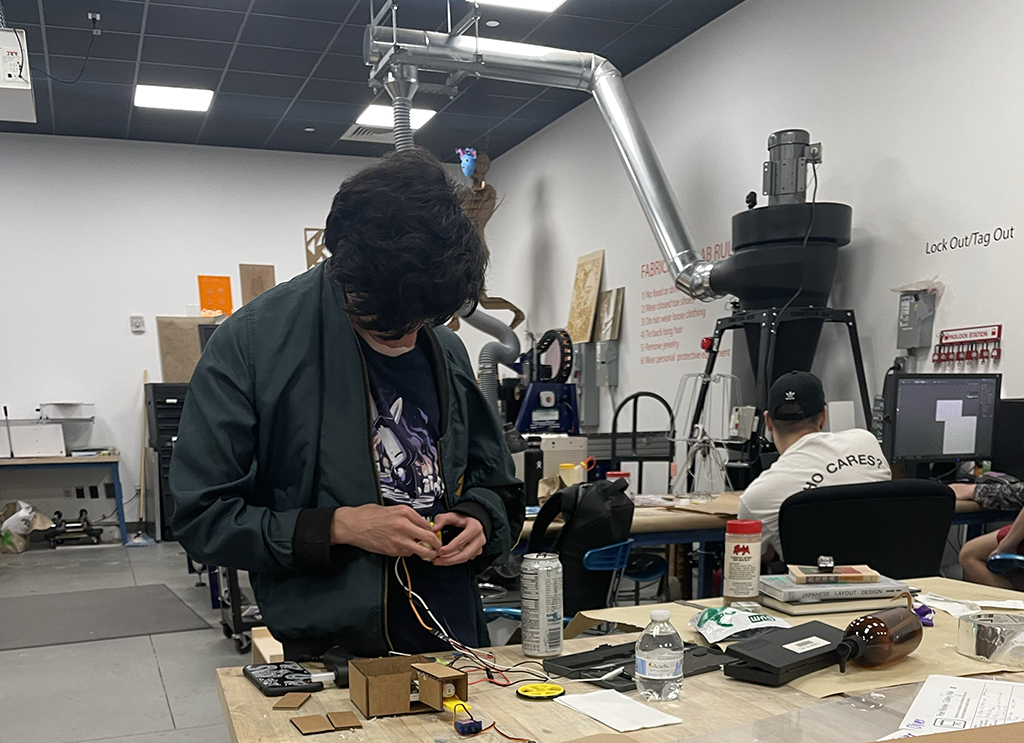 Later during the first week students worked with their peers and SHS/LSTEAM to synthesize what they learned in 3D art & design with their A.I. robot builds. This was done through prototyping to quickly iterate upon their initial designs. They had plenty of open work time that was dedicated to this activity and they participated in a collaborative peer review. The latter combines culturally relevant pedagogy and design thinking. Culturally relevant instruction modifies standard curricula to center students' identity development, cultures, and participation. Design thinking helps students  understand design constraints, challenge assumptions, redefine problems and create solutions to prototype and test.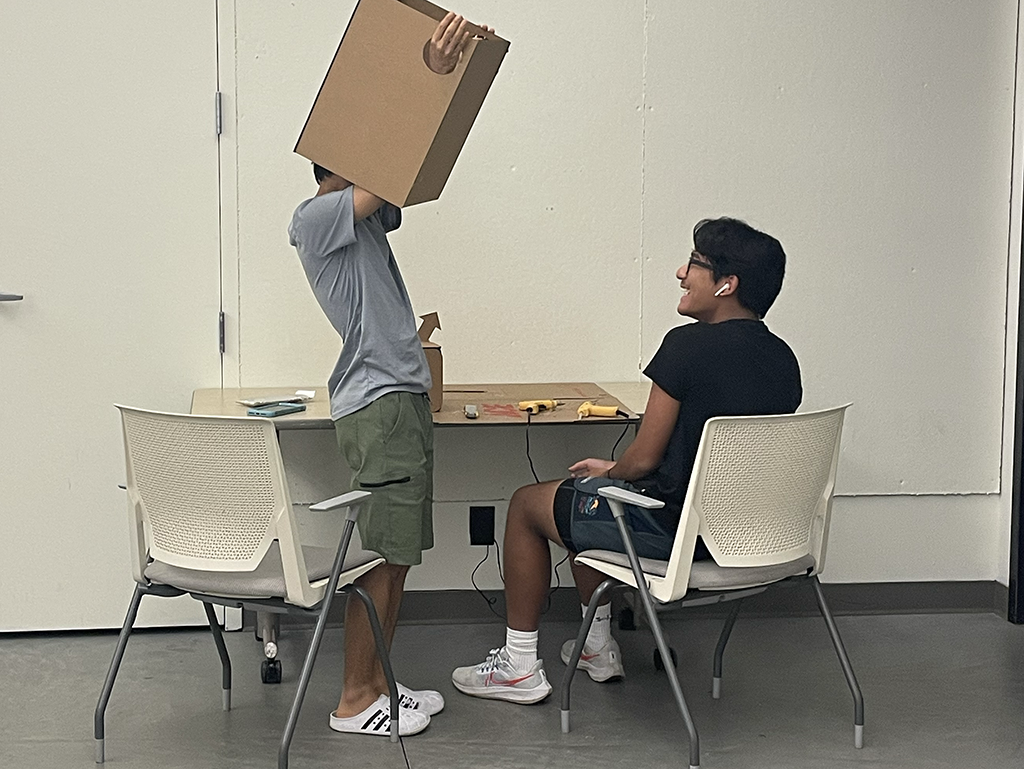 The collaborative peer review process consisted of gallery walks, with each group providing constructive critiques for peer projects. Individually and in teams, they answered worksheet questions about the projects they saw. Students, in their groups, were given enough time to read and discuss their peers' feedback. They were given time to respond to peer feedback through iteration on their initial prototypes. Students participated in peer reviews at the end of the first week and as a final review/capstone presentation on the next to last day of the course.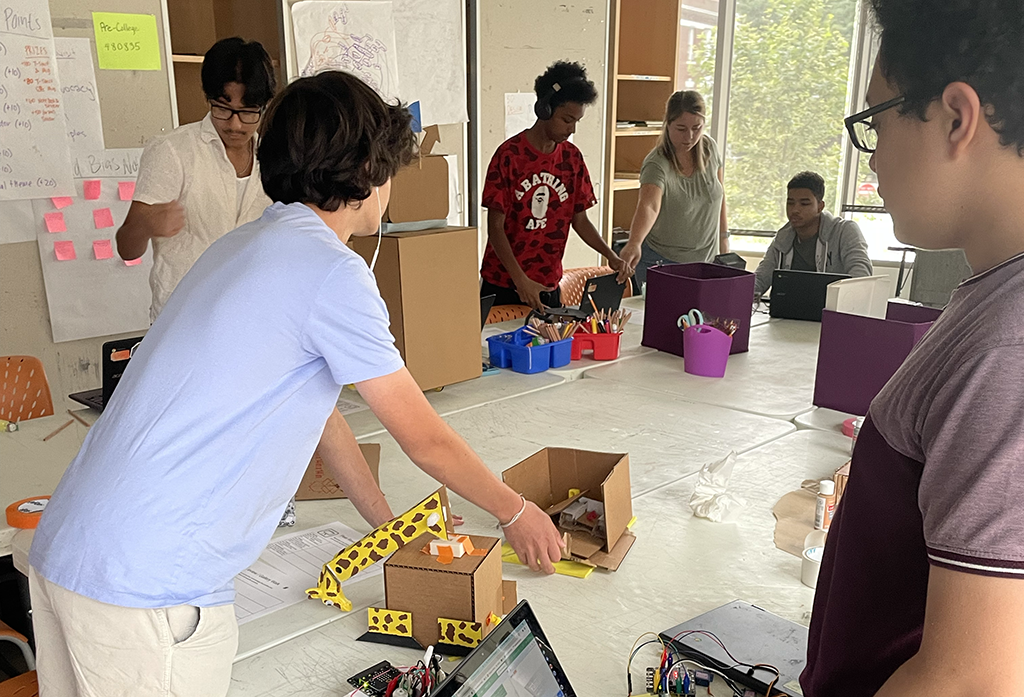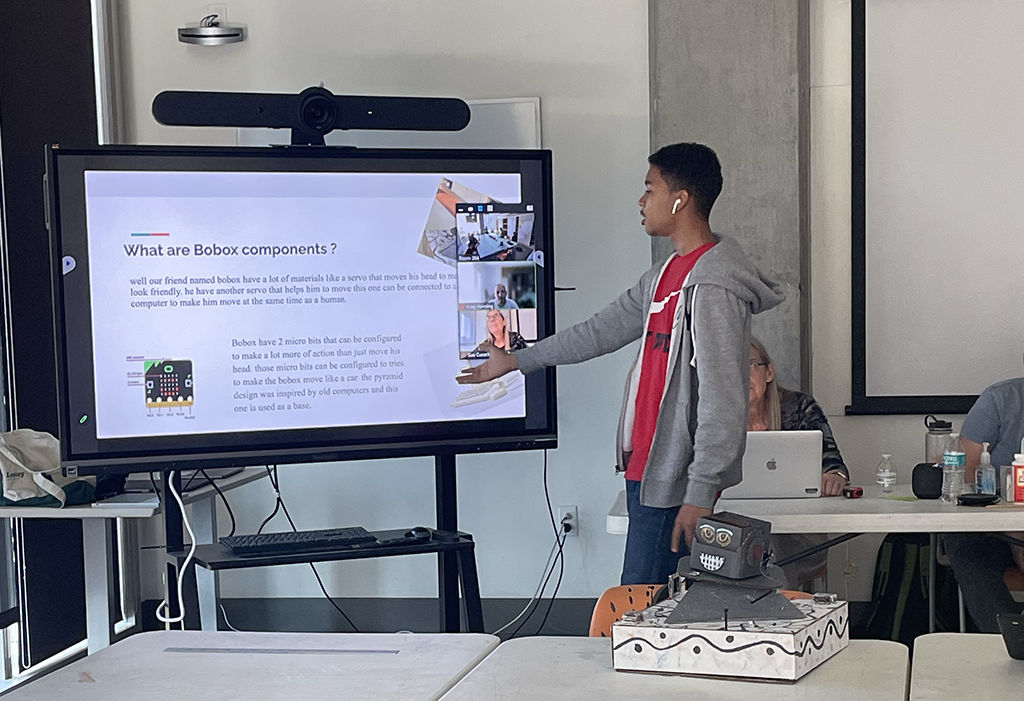 Examples of the students' final 3D art bots include a paintbrush art bot, a "happy-faced Bobox", a drawing giraffe, a spider clock, a fashionable head-turning robot, and and a moving sculpture modeled from Star War's original R2D2 robot (see image below). The latter was shared with Ahmed Best who played the character Jar Jar Binks who appears throughout the Star Wars prequel trilogy and recently a Jedi in The Mandalorian.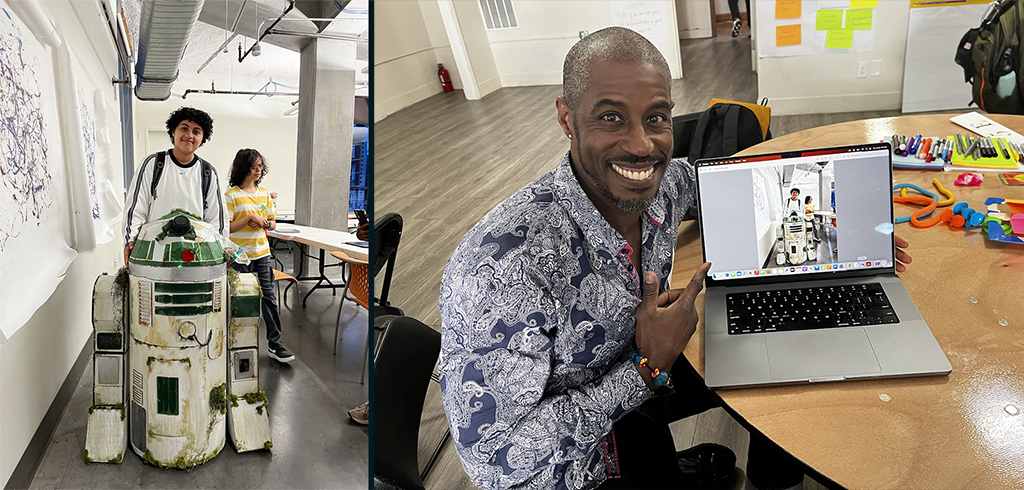 To learn more, check out some of the students' final capstone projects (3D art bots):

This work has been made possible through collaboration with Somerville High School and Lesley University's College of Art & Design's PreCollege Program and the generous support of SomerPromise at the City of Somerville and the Biogen Foundation's STAR Initiative.