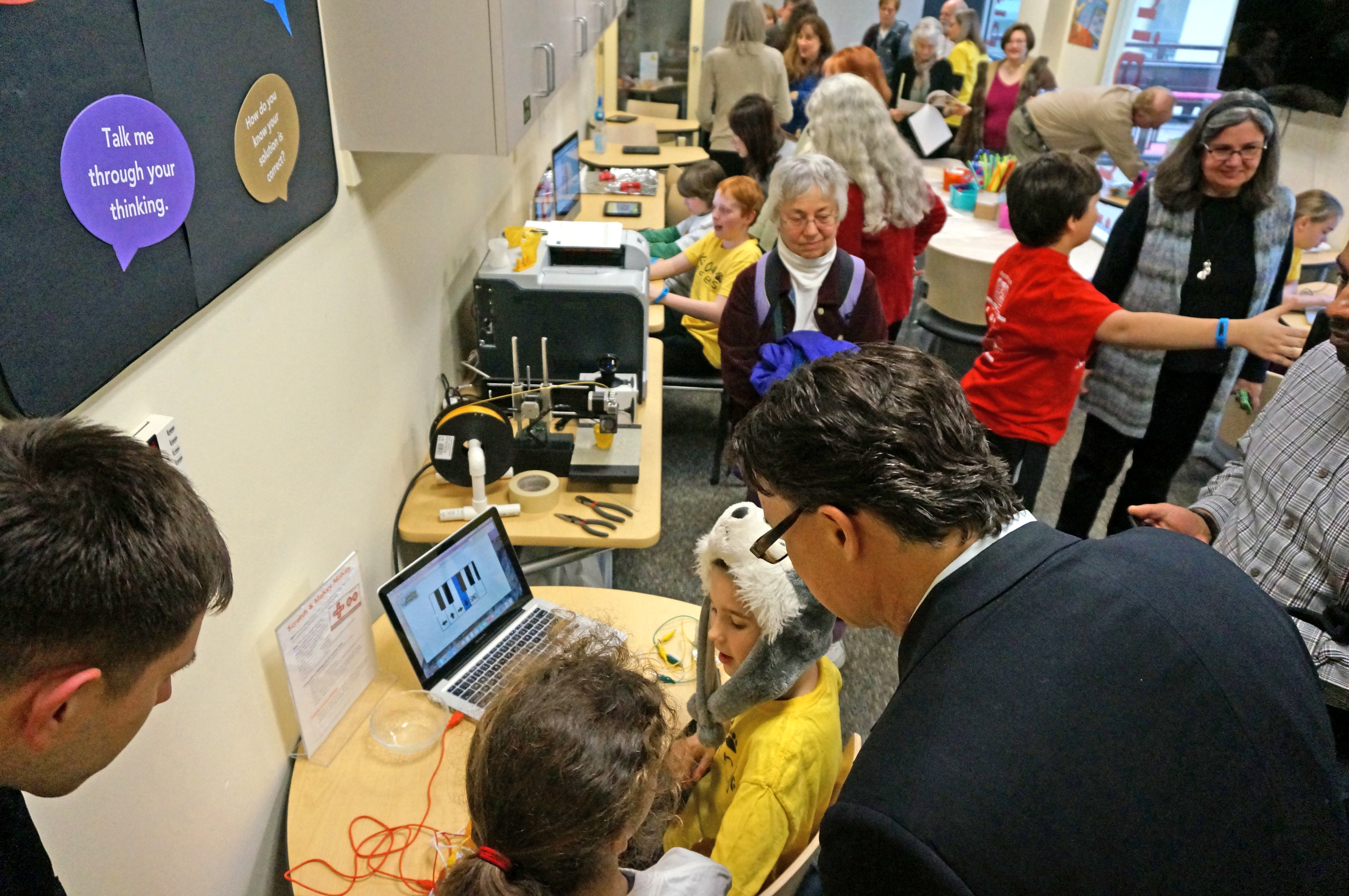 The buzz was palpable as Lesley faculty, staff, community members and friends wove their way through the newly launched makerspace. Housed on the second floor of University Hall at Lesley, the makerspace features a wide variety of teaching and learning tools rooted in the maker mentality.
Scratch Club students from the Kennedy-Longfellow School in Cambridge facilitated the stations. These 3rd-5th graders were eager to share their knowledge of programing and making with the crowd. Participants engaged in inquisitive dialogue, with questions such as "how does that work" and "can you tell me more about this" overheard throughout the session.
Bee-Bots and KIBO Robots beeped in one corner, Scratch and Scratch Jr were debugged along the tech bar, and a whizzing 3D printer and MaKeyMaKey orange piano rounded out the room. Many found themselves stepping unknowingly into a scene of the Eiffel Tower or the International Space Station – captured on green screen using the iPad app Veescope Live.
In the center of the room, materials were laid out to engage people in creating a kinetic sculpture. And outside the space, participants made their own LED throwie with magnets and electrical wire and tried their hand at a large interactive ball shoot made from cardboard, lasercut plywood gears and PVC piping. Last but not least, folks could try their hand at creating littleBits satellite dishes and testing play dough squishy circuits in the annex space.
The makerspace will be up and running for Lesley faculty and students in the next couple months by appointment, and the Partnership team is looking forward to sharing makerspace teaching and learning practice with the community!